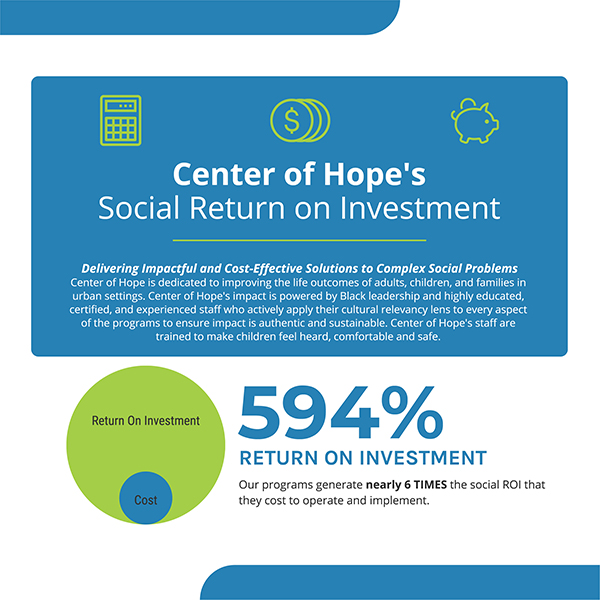 2019 Toledo Community Foundation Annual Report Feature Story
Goldman Sachs 10,000 Small Business Alumni
2018 Winner - Nonprofit Innovation & Excellence Award
2018 Winner - Ohio Dept. of Education's 21st Century Community Learning Center Award for Academic Improvement in Reading and Literacy
Center of Hope was featured in the Sojourner's Truth Newspaper on Wednesday April 1st and April 8th. The articles covered their Hands of Hope Program, which delivers family-sized, shelf stable meals to families in need. The Truth also highlighted Center of Hope's ELEVATE After School Program, which is also delivering homework packets to families who do not have access to computers, or transportation to pick up packets from their children's schools. The ELEVATE Program is continuing to support families and students in completing both school work and enrichment related tasks, based on their expertise in helping students learn and be productive in a non-traditional school environment. These programs are provided with support from the Toledo Community Foundation, Lucas County Commissioners, and the Ohio Department of Education. 
Center of Hope is also working with the Lucas County Commissioners and the Toledo Area Regional Transit Authority to provide masks for individuals in need who utilize public transportation. Thank you to JacQui Wilson, Center of Hope Board Member and State Bank for their contribution to support this effort.
To see our COVID-19 Response Programs in Action, please click here: https://youtu.be/gr9cZ8QyzTA. 
To read the Sojourner's Truth and Toledo Journal articles on Center of Hope's efforts please click below:
http://www.thetruthtoledo.com/story/2020/040820/gtcf.htm
Sojourner's Truth (Page 9): http://www.thetruthtoledo.com/pdf/2020/040120pdf.pdf
https://thetoledojournal.com/wp-content/uploads/2020/04/The-Toledo-Journal-April-8-2020-Issue.pdf