ELEVATE! Program Overview
The ELEVATE! Afterschool Program empowers families and communities, providing high-caliber afterschool education that boosts social-emotional learning and academic performance for children and meets a critical need for parents, schools and our community.
ELEVATE! Program Deliverables
Increase engagement in education and enrichment activities
Improve literacy and math performance 
Build confidence and leadership skills
ELEVATE! Program Components
Literacy and math tutoring and enrichment
Social and emotional development
Guided homework assistance
Health and recreation activities
Arts enrichment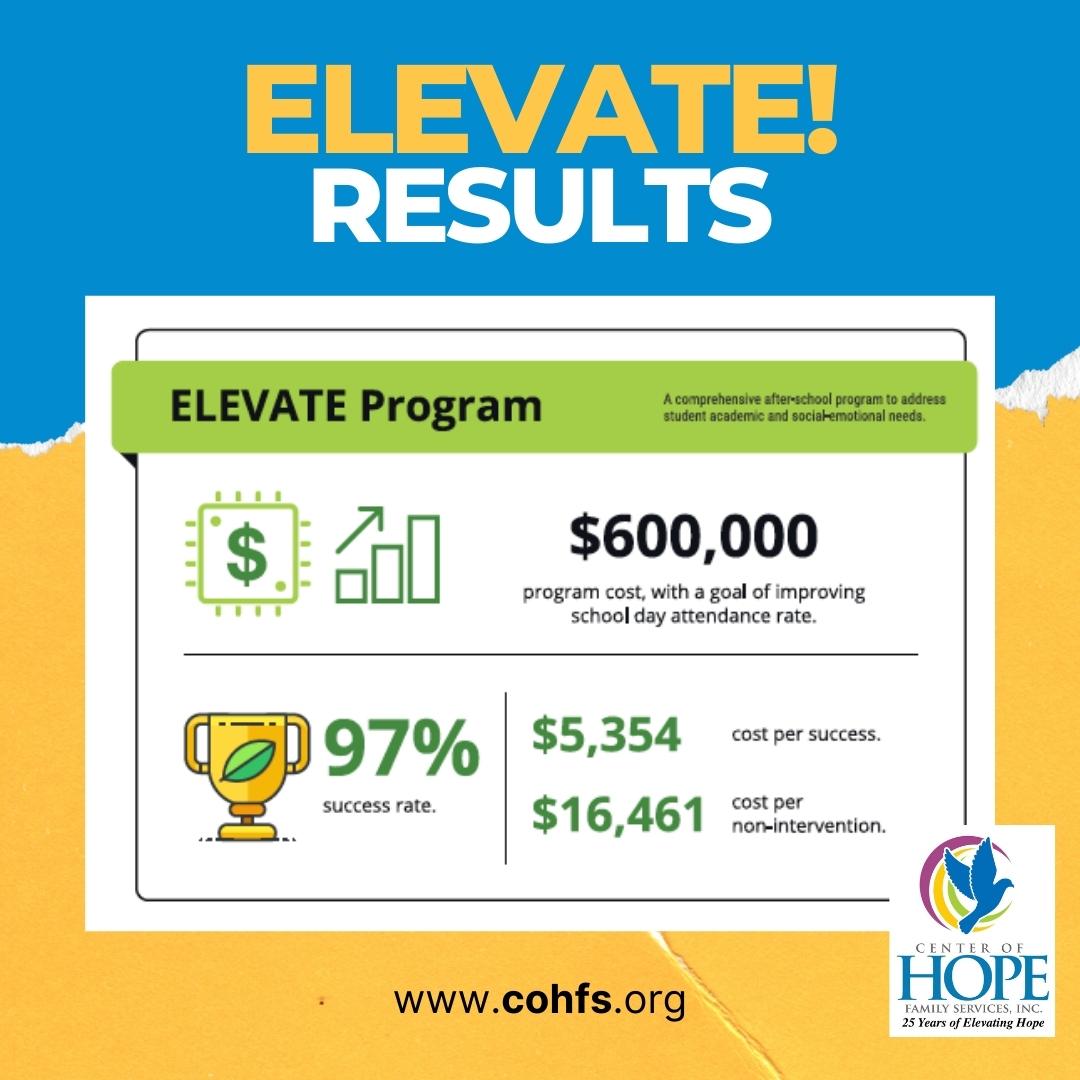 ELEVATE! Program Results
Program results based on recent program statistics:
     Before ELEVATE!
Students entered the program struggling with academics
Students often fell behind on standardized tests
Students had high absenteeism rates and behavioral issues
     After ELEVATE!
60% of returning students improved in reading or math
40% improved in both
62.5% of students improved raw scores during the program
12% of students improved their DIBELS classifications
Decreased classroom behavioral issues at most program sites
Decreased absenteeism rates at most program sites
ELEVATE! Program Partners
Ohio Department of Education
Lucas County Juvenile Court
Lucas County Job and Family Services
Lucas County Children's Services
The Lucas County Mental Health and Recovery Services Board
Sylvania Area Family Services  
Sylvania Public Schools
Washington Local Schools
Toledo Public Schools
Greater Toledo Community Foundation
Andersons Inc.
Toledo Buffalo Soldiers 
Toledo Athletes 
State Bank 
National Alliance on Mental Illness
Boy Scouts of America
Girl Scouts of America
ProMedica Health Systems
The Ohio State Extension Program
Lucas County Commissioners
Feed Lucas County Children
ELEVATE! Program Enrollment