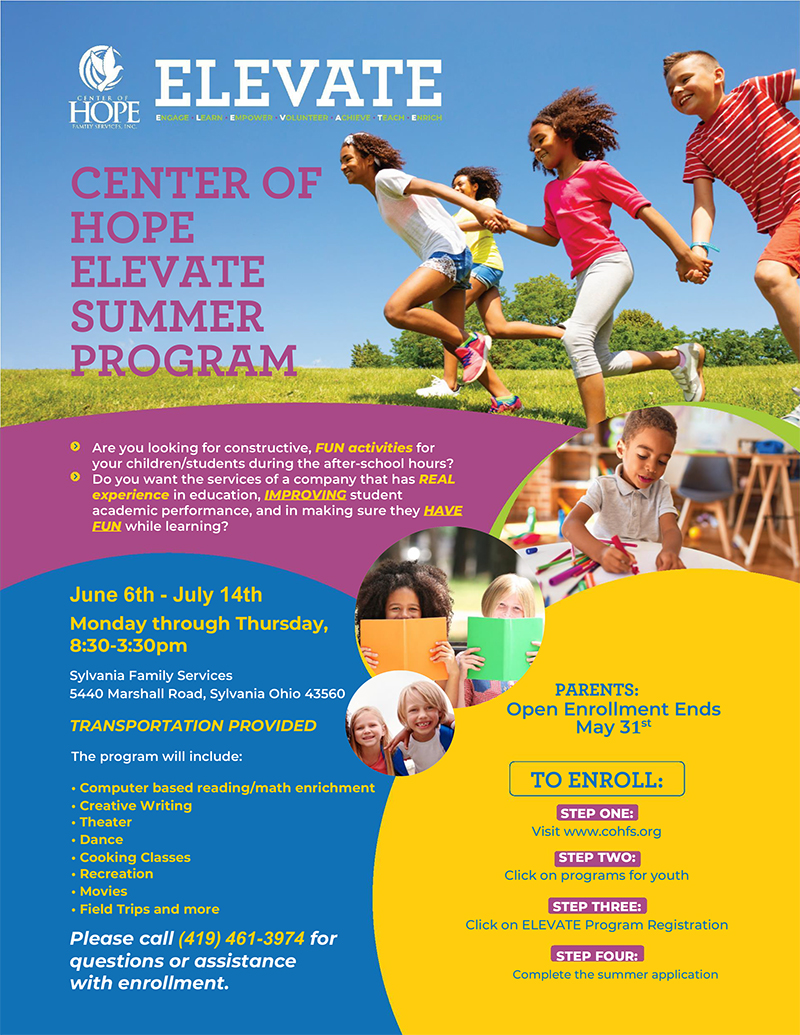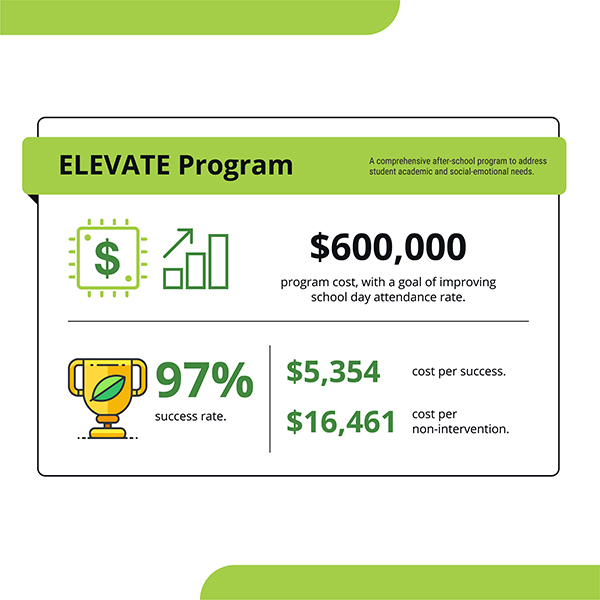 The Center of Hope ELEVATE Program will offer the ELEVATE Skills Institute on Zoom for students in grades K-6 who attend Old West End, Martin Luther King, and Robinson Elementary Schools.
The ELEVATE Skills Institute will run from June 15th until July 24th, 2020.
We have so much in store for our ELEVATE students this summer. Students will prepare for a musical performance on Music Mondays with Dr. P. Learn theater and drama on Celebrate ME Tuesdays, relax on Wellness Wednesdays, show your dance moves on Thursdays, enjoy cooking and crafting with Mrs. P. on Fridays. We're always having fun, so come join us on Zoom at 6:30 p.m.! To RSVP call 567.218.1820 and a Zoom code will be sent to you.
ELEVATE is a comprehensive after-school program for Old West End Academy, Martin Luther King School for Boys and Robinson Elementary Schools students, helping students and their families:
Improve literacy and math performance 
Increase engagement in education and enrichment activities
Become empowered by using leadership skills within the program and the broader community
ELEVATE provides a safe, nurturing environment that offers:
Literacy and math tutoring and enrichment
Guided homework assistance
Social and emotional development
Arts enrichment
Health
Recreation
Parents work collaboratively with staff to lead and plan quarterly family/stakeholder engagement activities.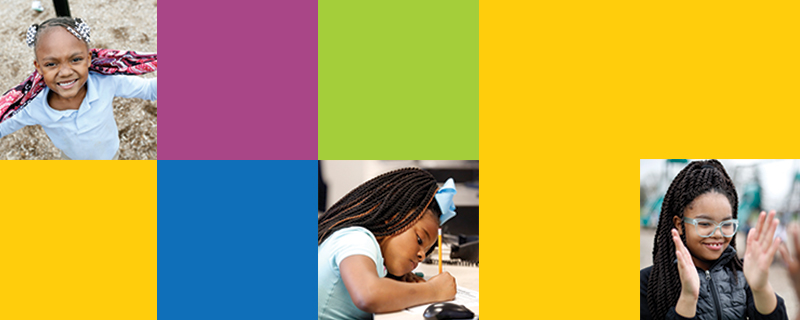 ELEVATE Results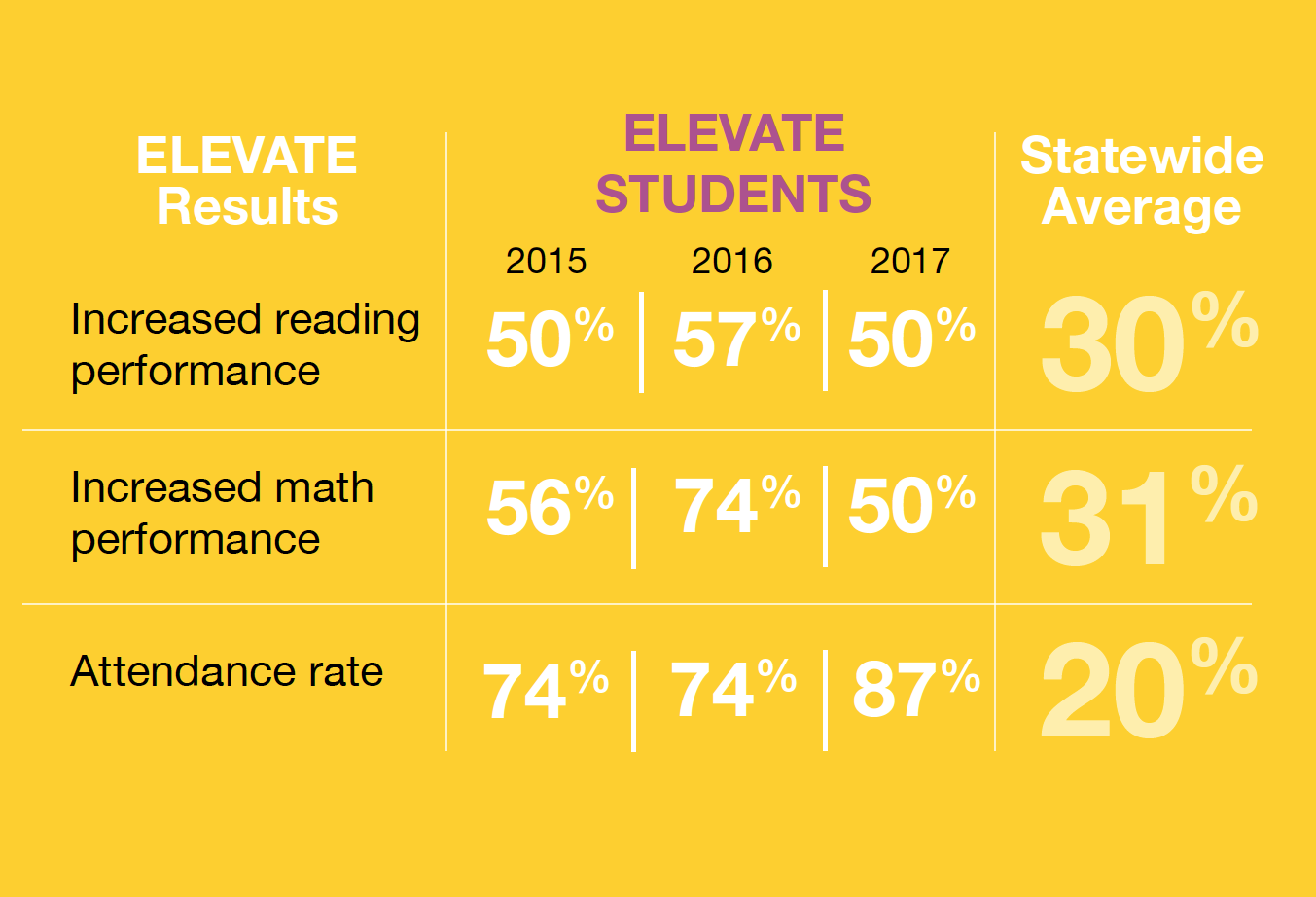 In addition, ELEVATE helps reduce summer learning loss
From spring 2015 to fall 2015
60% of returning students improved in reading or math
40% improved in both
During the 2013-2014 school year, ELEVATE participants demonstrated an average gain of over 1.5 months in reading and nearly 2 months in math.
In 2013, CHFS formed a partnership with the Toledo Public Schools to provide tutoring and extended learning opportunities Old West End Academy and Martin Luther King School for Boys students. Despite the program being implemented at the end of the school year when burn out and disengagement are likely, COH achieved the following outcomes:
62.5% of students improved raw scores during the program
12% of students improved their DIBELS classifications
ELEVATE partners
Toledo Public Schools
WSOS Community Action Planning Agency
Art Therapy provided by the National Alliance on Mental Illness
Social/emotional development and STEM programs offered by Boy/Girl Scouts
Nutrition/health education provided by ProMedica Health Systems and The Ohio State Extension Program.
ELEVATE receives funds from the Lucas County Commissioners, who support weekend meals to reduce food insecurity among participants. Daily meals are provided by Feed Lucas County Children.
ELEVATE Support Materials
Center of Hope OWE Academy #11121 Final Report 2018
Center of Hope MLK Academy #11120 Final Report 2018
2014-2015 Evaluation Brief
2014-2015 Program Evaluation
2014-2015 Mid Year Evaluation Report
Local Students elevate and learn how to produce music