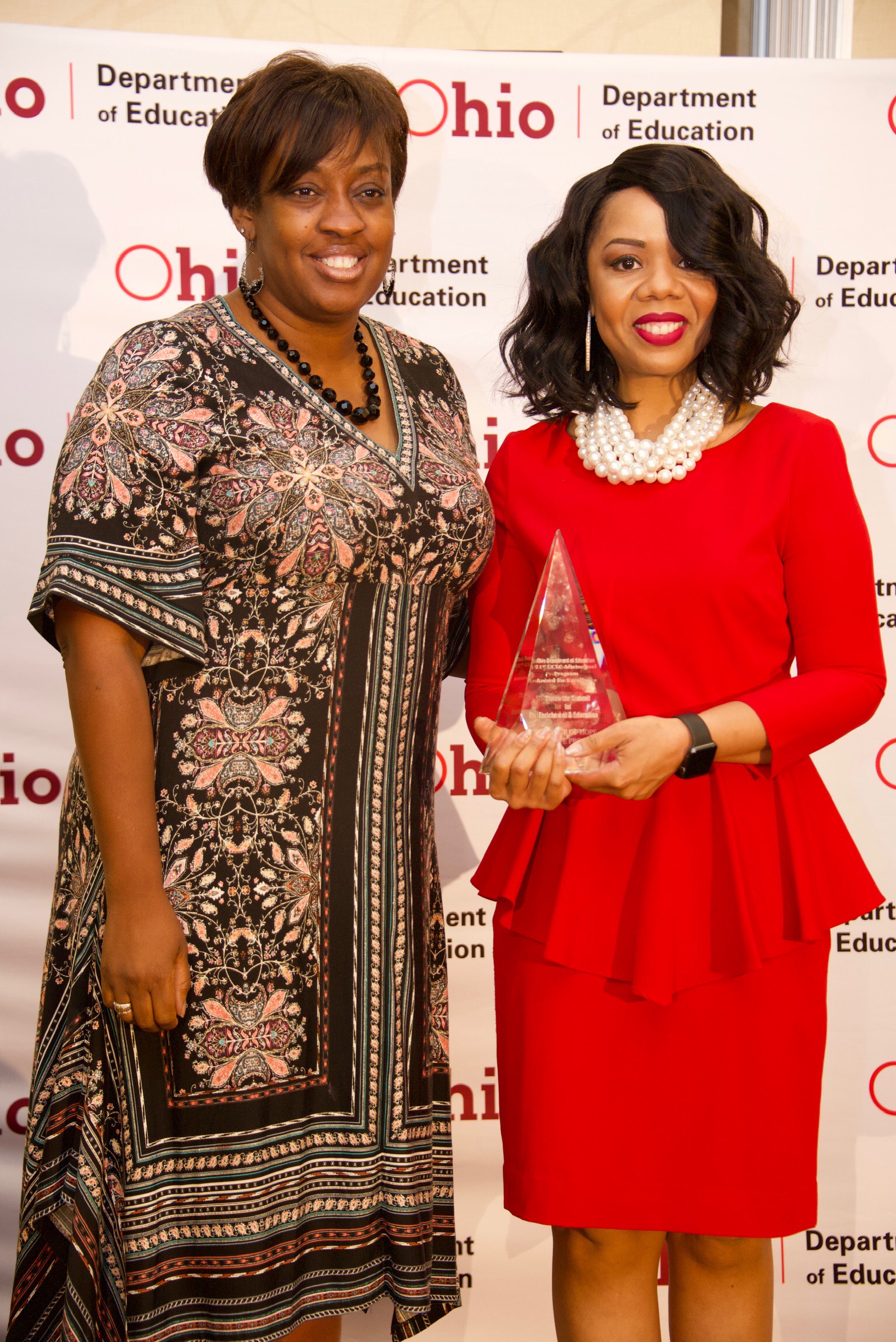 Center of Hope Family Services' ELEVATE afterschool program WINS Ohio Dept of Education's Statewide Summit for Enrichment Education, 21st Century Community Learning Center Award in Academic Improvement (Reading/Literacy Program Category)
TOLEDO, OHIO, November 28, 2018 – Congrats to CHFS' leadership for their performance and commitment. Many thanks to the ELEVATE Program parents, partners, and the community for their support. 
Toledo Community Foundation and The Blade, in partnership with The Center for Nonprofit Resources, Buckeye Broadband and WTVG-13abc, are happy to announce the eighth annual Nonprofit Innovation & Excellence Award winners, recognizing local nonprofit organizations that stand out for their contributions to our community. 
The 2018 Nonprofit Innovation & Excellence Awards breakfast and ceremony took place on Tuesday, October 9th at The Premier, 4480 Heatherdowns Blvd., Toledo.  More than 250 individuals from our area nonprofit and business communities came together to honor this year's winners.
A panel of judges selected the following three organizations to receive recognition at this year's ceremony. They are:
Innovation award: Center of Hope Family Services, Inc.
Small agency Excellence award: Leadership Toledo
Large agency Excellence award: Boys & Girls Clubs of Toledo
In addition to being recognized as a leader among northwest Ohio and southeast Michigan's nonprofits, these winning organizations receive a $5,000 unrestricted grant from Toledo Community Foundation; a $500 unrestricted grant from The Andersons; free full-page ad in The Blade; and a one-of-a-kind blown glass art creation by local glass artist Shawn Messenger.
Center of Hope Family Services, Inc.'s mission is to improve the life outcomes of adults, children and families in urban settings. Programming provides educational enrichment, cultural development, community involvement, workforce development and job skills training. Since 2011, the Center of Hope's ELEVATE Program (Engage, Learn, Empower, Volunteer, Achieve, Teach, Enrich) has provided culturally-centered academic enrichment and youth development services to two predominantly African-American Toledo Public Schools: Old West End Academy Elementary and Martin Luther King Academy for Boys. Their programming is an afterschool program where students and families come daily to improve literacy and math skills, increase engagement in education and enrichment activities, and become empowered by learning and using leadership skills within the community. ELEVATE also offers family events to build parents' skills to support their children's education and build community.
The results of the ELEVATE program have been very positive, outperforming the state average in student literacy gains and grade-level math standards, and reading at grade level more than doubled.
The Center of Hope believes the ELEVATE program is cutting edge because of its ability to implement academic assistance and enrichment activities that truly meet African-American students' academic and social/emotional needs. It is skilled at integrating culturally competent and relevant strategies into K-12 educational interventions. 
Congrats to Dr. Tracee Perryman and the Center of Hope Family Services ELEVATE after-school program!